Unleash Crystal Clear Audio With The 6 Best YouTube to AAC Converters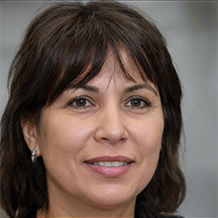 Content
Welcome to the captivating world of YouTube, the American giant that has become the ultimate global hub for video content. There's something for everyone, from soul-stirring music to enlightening talk shows and compelling audiobooks. But what if you crave the freedom to enjoy these audio treasures whenever and wherever you please, even offline? Prepare for an exciting journey as we empower you to effortlessly convert YouTube to AAC audio, ensuring an unparalleled listening experience.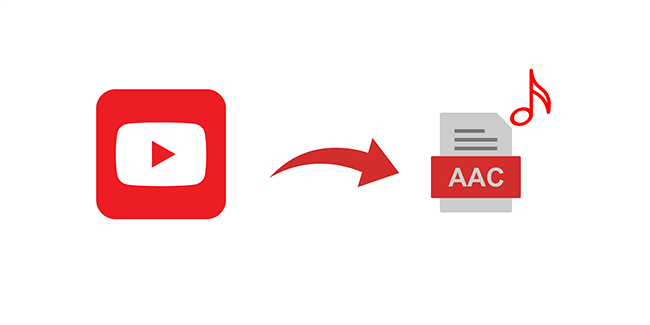 What Is AAC?
AAC (Advanced Audio Coding) is a compression method for audio that reduces file sizes, although some quality is lost in the process. It's most commonly used when you want to keep audio quality decent while still having relatively small file sizes. iTunes uses AAC as its main audio format; many other devices and platforms also support it. Sometimes, you'll find AAC audio files inside an M4A container so they might have an .M4A file extension.
What's the Purpose of Converting YouTube to AAC Audio?
Why do we suggest converting YouTube to AAC instead of the more widely used MP3 format? The reason is that AAC is engineered to be an improved successor to MP3, delivering superior audio quality at the same bitrate (e.g., 128 kbps). Additionally, AAC maintains compatibility with nearly all devices and software that support MP3, including iPhone, iPod, iPad, Apple iTunes, DivX Plus Web Player, PlayStation 3, BlackBerry, Android, and more.
PPTube YouTube Converter: Your All-in-One YouTube to AAC Converter for Mac and Windows!
Experience the perfect blend of simplicity and versatility with PPTube YouTube to AAC Converter. This powerful tool converts YouTube videos to AAC effortlessly and offers a wide range of video processing features. You can extract audio in various formats like AAC, M4A, AC3, MP3, WMA, OGG, AIFF, MKA, AVI, and more. But that's not all – PPTube goes beyond YouTube. It supports downloading content from thousands of other websites, making it your go-to choice for online media. Whether it's movies, music videos, playlists, or entire channels, PPTube ensures high-quality downloads and turbocharges your download speed, fetching content in 1080p, 2K, 4K, and even 8K at a blazing 10X faster rate!"
Exclusive Features🪄
💥PPTube excels at downloading YouTube to AAC with stunning quality, supporting resolutions from HD 720p to mind-blowing 8K.
💥PPTube serves as your YouTube to MP3 converter, offering formats like MP3, M4A, WAV, AVI, AAC, FLAC, OGG, and more for offline audio enjoyment.
💥PPTube's smart playlist parsing function automatically fetches all the target files when you paste the playlist URL.
💥PPTube supports VOD and live stream downloads from various popular websites, including Twitch, TikTok, Twitcasting, AfreecaTV, and more. 
💥Keep your downloaded videos safe with PPTube's private mode, which stores them in a password-protected folder. 
💥Conveniently filter videos by name or paste a link in the built-in browser to locate your favorite content effortlessly. 
💥Access YouTube videos with subtitles in over 50 languages.  
Learn How to Convert YouTube To AAC Using PPTube YouTube Converter Easily 
Step 1: Copy the YouTube Video Link 
Visit YouTube and duplicate the link for the video you wish to save.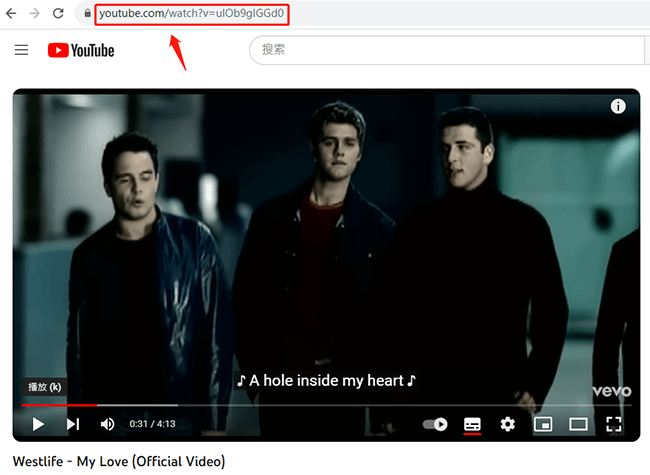 Step 2: Select Output Format and Quality 
Click "Download and Convert to" to choose your desired output format (AAC) and adjust video settings if needed.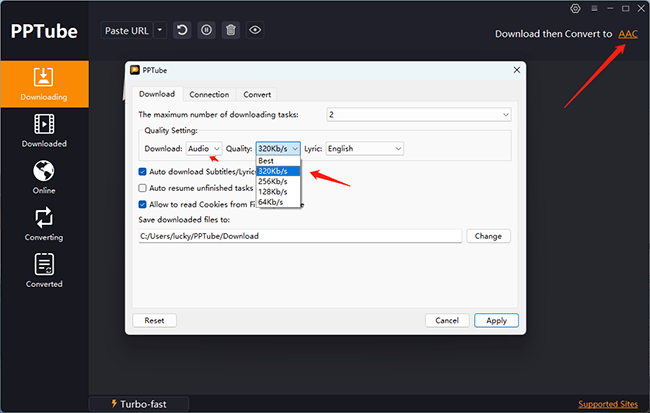 Step 3: Utilize PPTube Video Downloader  
Open the PPTube Video Downloader and click "Paste URL" to initiate the download process.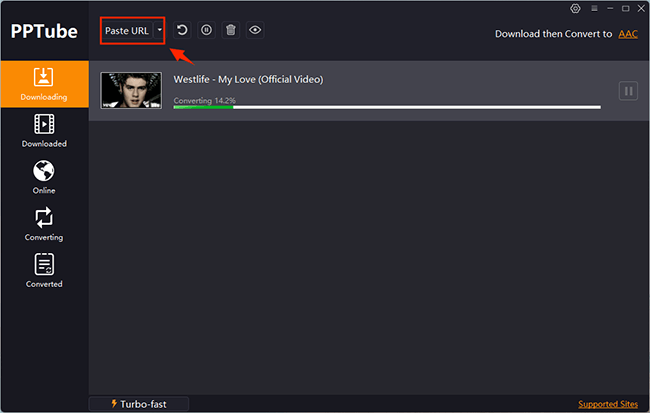 Step 4: Locate Your Download  
Your downloaded YouTube video will be securely stored in the "Downloaded" section of the program on your device, ready for uninterrupted enjoyment.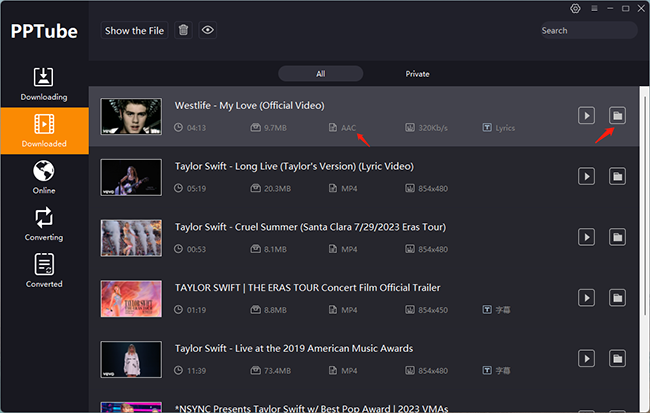 Other Online YouTube to AAC Converters You Can Try In 2023
Online YouTube to AAC converters are versatile tools for all platforms, including Mac, Windows, and mobile phones. They offer the convenience of being free to use without any installation requirements. However, it's worth noting that while many online converters primarily support YouTube to MP3 or MP4 conversions, only a few cater to the AAC format. For your convenience, let's look at five such online YouTube to AAC converters.
1)YouTube-AAC.com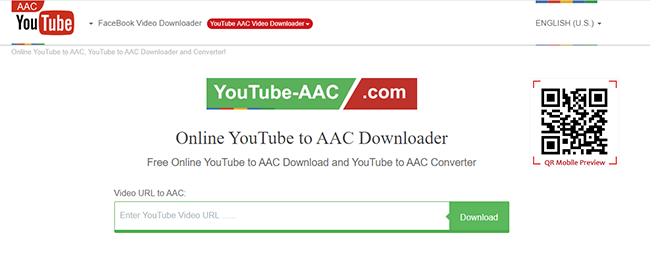 YouTube-AAC is a user-friendly, no-installation-required online tool for browsing and converting YouTube videos into various popular audio and video formats, including AAC, WAV, and MP3. This fast, free converter lets you enjoy your favorite YouTube content offline on multiple devices.
💥It is compatible with multiple platforms such as Facebook, Vimeo, YouKu, Yahoo, etc.
💥It sends an optional mail notification on YouTube to AAC conversion.
💥It doesn't leave any watermark on the final files. 
2)Anything2MP3.cc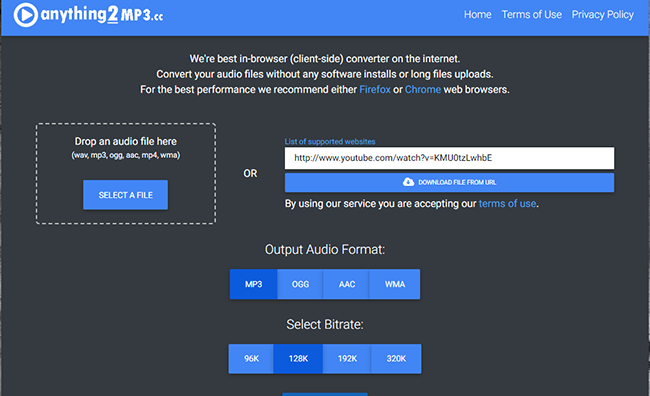 Anything2MP3 is a free online tool for MetaCafe, Vimeo, and YouTube to AAC conversion. This versatile tool allows you to save videos from these sites in formats like MP3, OGG, AAC, and WMA. Additionally, you can choose from various bitrate options, ranging from 96k to 320k.
💥It offers a drag-and-drop functionality.
💥You can grab videos directly from the source website.
💥It doesn't impose any upper limit on the number of downloads and conversions.  
3)Conversion Tool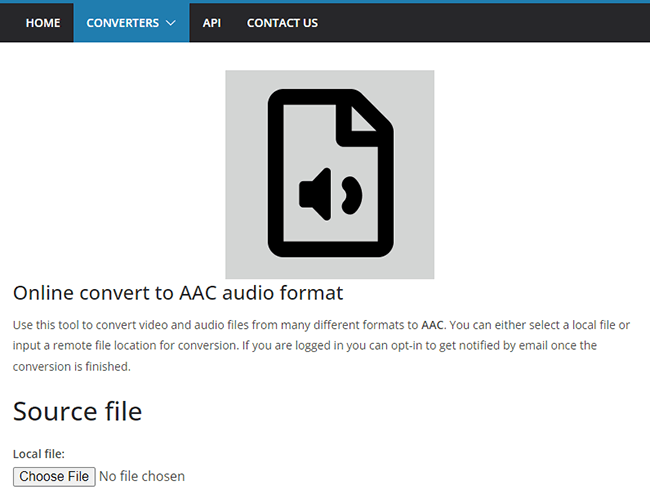 The conversion tool can transform video and audio files across various formats into AAC format. You can choose between a local file or input a remote file location for the conversion process. If you're logged in, you can choose to receive email notifications once the conversion is complete. 
💥Offers the choice of selecting between different audio sample rates.
💥You can select between mono and stereo audio channels.
💥Users can determine the beginning and end time of the media file. 
4)Office-Converter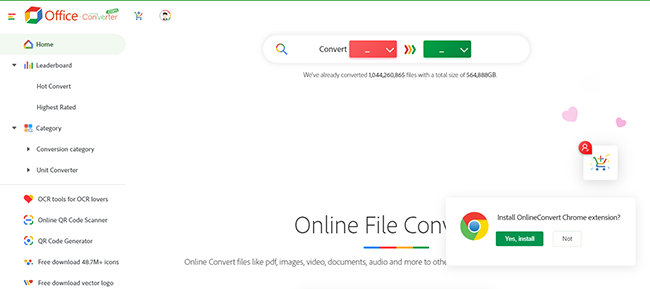 The Office Converter Tool is a top choice for those seeking an intermediate-level solution to convert YouTube videos into AAC format. This versatile tool can handle URLs and local files, allowing for a flexible conversion process. 
💥The site is available in multiple languages, such as English, Portuguese, Dutch, etc.
💥Files can be browsed from local storage or dragged and dropped.
5)Online-Convert.com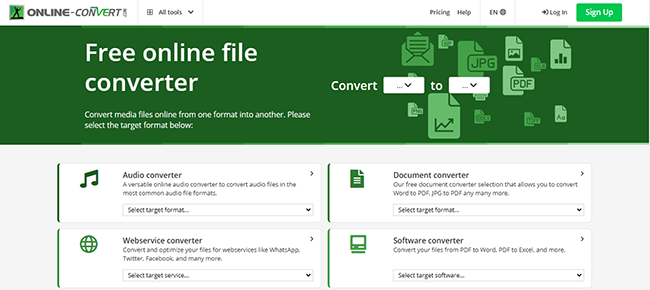 Converting YouTube to AAC becomes easy with this online utility, which brings various other converter tools under its turf. Whether audio, video, image, or document, Online-Conver.com has an answer to all your conversion woes. 
💥The site can be accessed in English, French, Spanish, etc.
💥An intuitive help section can cater to the common queries of users.
💥It can be downloaded as an app on Google Play and Apple App Store.
💥No requirement for software installation. 
FAQs
Is it legal to download YouTube videos?
The legality of downloading content from YouTube is indeed a contentious topic, and there is often confusion surrounding it. YouTube's Terms of Service provide specific guidance on this matter, stating that users should not download any content unless there is a "download" or similar link provided by YouTube on the platform for that particular content. 
Which audio format is superior, AAC or MP3?
AAC offers superior audio quality to MP3 at the same bitrate despite both being lossy compression formats. AAC was developed to improve the MP3 format, aiming for better sound fidelity. Moreover, AAC boasts extensive compatibility, working seamlessly with nearly all devices and software that can handle MP3 files. 
What's the method to convert AAC to MP3 while preserving the original audio quality?
To convert AAC to MP3 without compromising quality, follow these steps:
🔹Click on the "Settings" option next to the MP3 format.
🔹Adjust the bitrate to achieve higher MP3 quality. For further customization, you can also modify settings such as the audio encoder, sample rate, and channels.
🔹Once you've fine-tuned the settings, click "Convert" to initiate the batch conversion of AAC to high-quality MP3 files.
Conclusion
The above methods have been thoroughly tested and are reliable options for converting YouTube to AAC audio. These platforms are widely utilized globally, making them some of the most popular choices available on the internet. Notably, PPTube distinguishes itself from its counterparts by providing exceptional safety and flexibility in the conversion process, making it a standout choice for users seeking security and convenience.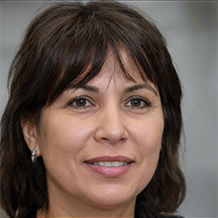 Jasmine Austin
Due to my deep fascination in internet technology, I consistently keep myself well-informed about the most recent advancements and innovations in video processing and online video solutions. I delve into a wide array of subjects encompassing video compression methodologies, live streaming technologies, video hosting platforms, and other related areas.